Before you start
– You must be a full-time teacher in a day secondary school in Hong Kong
– If your school has already signed up, i.e. another teacher has an account, please ask the teacher to follow the Add/Change/Remove School Admin guide instead.
– If you are not sure whether your school has signed up before, please contact us at using your school-issued email address.
Step-by-step
Step 1: Enter the Join HKOI system. Under HKOI Online Judge, click "Start a new form".


Step 2: Enter your email address, then click "Send me a link".

Step 3: Check your email inbox. Follow the link in the email.

Step 4: Once entered the form, click "Edit school info".

Fill in the school information. Highlighted fields are required. For the Principal's name, you can include prefix (e.g. Ms. Mr.) and suffix (e.g. Ph.D) but please omit the commons one from the Chinese name. Lastly, click "Save School Info".

Step 5: Click "New School Admin". Enter your information, then click "Save". Repeat for other teachers. You may request at most 3 accounts.
Note: We do not allow fictional names such as "Testing", "ICTTeacher".

Step 6: Open the printable version of the form and print it. Obtain Principal's signature and school chop.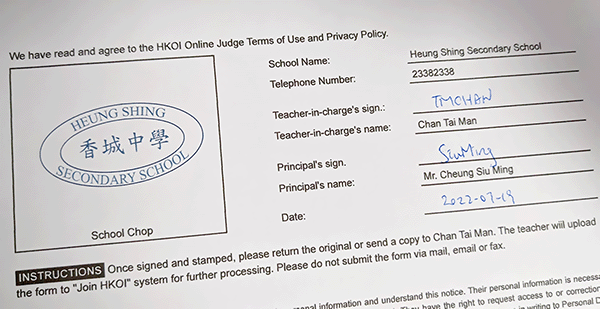 Step 7: Use a phone to take a picture of the form. Upload the image, then submit the form.


We will send you a confirmation email within 24 hours. Once you receive the email, please use the Forgot Password function to set up the password.
If you wish to open the judge to the students, please follow the this guide.